Recently Ocean City, NJ won the title of Best Beach in America by Coastal Living Magazine.  It has racked up many awards over the years and they just keep rolling in.  Ocean City has been voted…
#1 of NJ's top 10 beaches
One of the 25 Best Family Beach Vacations on the East Coast by Vacation Idea Magazine
NJ's most popular beach by the Travel Channel
One of the best boardwalks in the U.S. by the Travel Channel
#1 city for independent retailers in the nation
Least angry and depressed place in the U.S.
and many more!
So what's the big deal about Ocean City, NJ?  Well if you are looking for a great family beach vacation away from all the hustle and bustle, it's just the place for you!
Ocean City is a beautiful barrier island town found in southern New Jersey.   There's not a greater feeling in the world than crossing the bridge onto the island and ending up in "America's Greatest Family Resort."  Part of Ocean City's legacy includes it being a "dry" town.  Alcohol is not sold on the island and consumption is not permitted in public places including the beaches.  Nightlife is not far though, as the bright lights and casinos of Atlantic City are only 10 miles away.
My family has been vacationing in Ocean City, NJ for literally as long as I can remember.  It was our traditional beach vacation every year when I was a child and now that I have a family of my own, it's our go-to destination too!  In addition to the usual beach activities, there are so many fun things to do in such a peaceful, family-oriented town.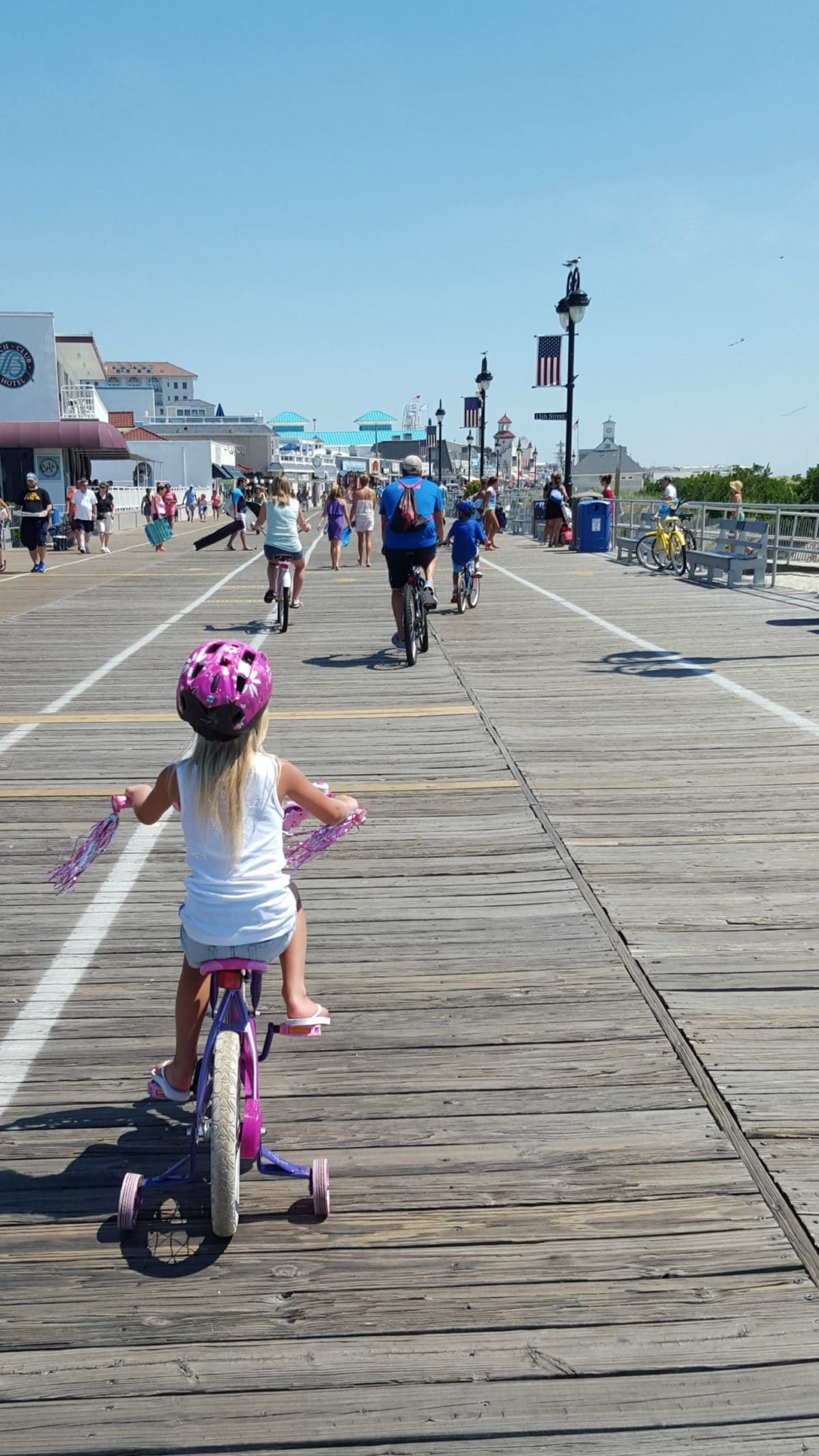 The Boardwalk
For many families, the boardwalk is where it's at!  As if the tons of restaurants, stores, and amusements that call the boardwalk home wasn't enough, there are also many other special events that take place there.
One of our absolute favorite traditions is starting our days by riding bikes on the boardwalk.  Each morning, from May 15 through Labor Day, the Ocean City boardwalk is turned into a family biking wonderland.  Bring your bikes from home, or rent them at one of the many bicycle centers in town, and enjoy riding your bike from 5 am to 12 pm each morning while enjoying the beautiful ocean views and sea breezes.  Be sure to set a day aside to rent a surrey for the whole family to travel along the boards together too!
After enjoying the day at the beach, it's time to head back to the boardwalk for the evening festivities.  Every Sunday through mid-August is "Character Night" where you can meet all of the Ocean City Merchant Mascots in front of the Music Pier.  Tuesday is Mummers Night…you'll find them strutting the boards from 7-9pm.  Family Night is Thursday where you'll find all kind of fun entertainment from 7:30-9:30pm each week.
This is just a handful of the many opportunities for family fun the boardwalk offers.  There are also many contests, parades, and special events throughout the summer.  For the complete list of activities you can visit Ocean City's Calendar of Events.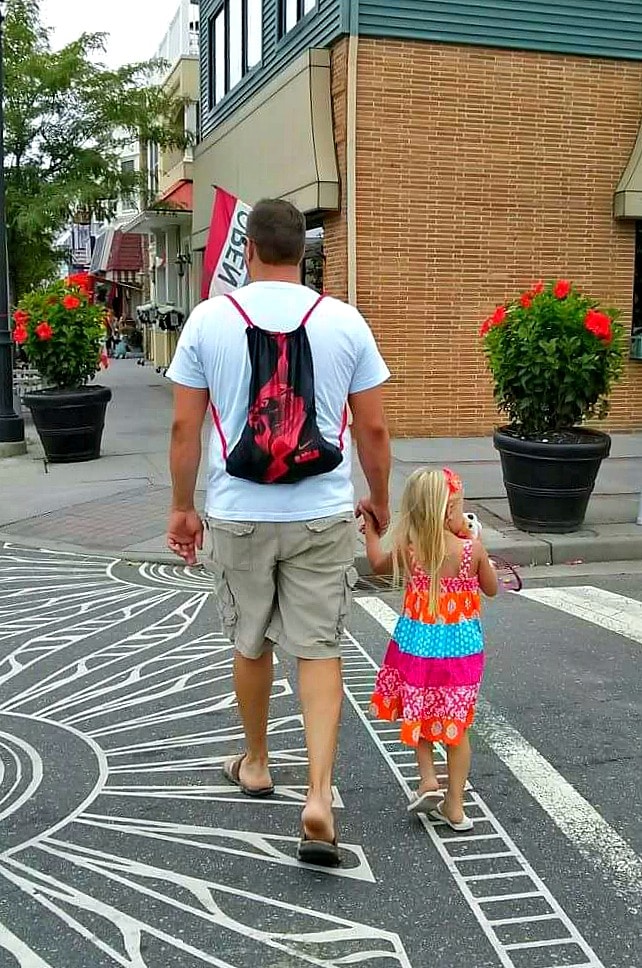 Downtown
You'll find Ocean City's downtown shopping district located midway between the beach and the bay, on Asbury Ave. from 6th Street to 14th Street.  Asbury Ave. is the home to more than 100 locally owned shops, restaurants, galleries, and much more.
And shopping is fun for the whole family downtown where you'll find "Funtastic Tuesdays" on Tuesday mornings and "Market Days" on Thursday mornings.  Each offers free face painting, entertainment, balloon sculpting, and more.  There is also a Farmer's Market at the Tabernacle Grounds every Wednesday morning from late June through early September.
Ocean City, NJ is so much more than just another beach town.  In addition to spending the day on the nearly 8 miles of pristine beach, you have the 2-1/2 mile long boardwalk full of amusement rides, arcades, miniature golf, lots of delicious seaside snacks, and shopping to the dozens of stores and restaurants in Ocean City's "Downtown." I'm thinking your family will be in for more fun than you can fit in your schedule!
So are you ready to book your vacation?  Don't miss these 9 things you must do when vacationing in Ocean City, NJ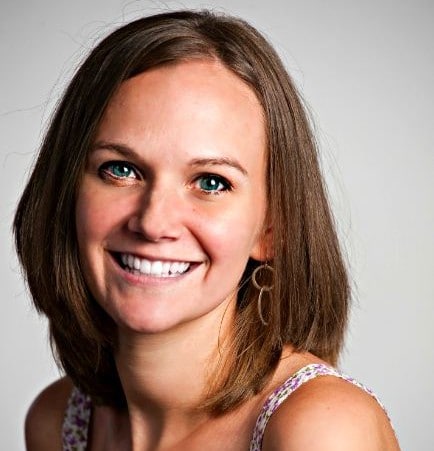 Kara blogs at Saving by Design and like many moms, she wears quite a few hats. She's a blogger, frugal living expert, lover of a great DIY project, and most importantly…a wife to the most loving and supportive husband and a mother to their three wonderful munchkins. Join her on Facebook and Pinterest to live each day creatively on a budget!
The following two tabs change content below.
Latest posts by Paula Rollo (see all)